Metal-Lite was established by Thomas R. Herren in 1991. As president, he has made the company the world's leader in research, development, design, testing, and production of solutions for the metal stud framing industry. Starting in 1991, with the advent of the Americans with Disabilities Act and its requirements for backing for handrails, grab bars, tub and shower seats, Metal-Lite conceived, developed, and brought to production Notch-Tite® and Flush-Mount™ backing. These very successful, nationally used products were the beginning of Metal-Lite's commitment to providing the metal stud framing industry with new, safer innovations.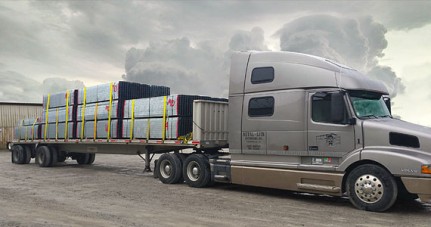 Shortly after, Metal-Lite developed Fire-Tite™. Fire-Tite™ is our fire blocking and bridging product. It is easy and fast to install and can be installed inline or staggered. It is manufactured in widths of 3 5/8", 4", and 6" and 16" OC lengths.
Knowing the problems framing contractors have and monitoring the building code making process, Metal-Lite developed its slotted deflection track, which is now the most popular product we offer. Known as "The System"™ head-of-wall assembly today, it was the first assembly to be cycle tested for first 100 cycles and then 500 cycles, simulating seismic and building expansion/contraction movement. No testing laboratory had performed a cycle test until co-developed with Metal-Lite's engineering expertise.
"The System"™ Slotted Track (U. S. Patent Nos. 5,127,203 and 5,913,788) was the first head-of-wall assembly to successfully undergo a full scale test (cycle, furnace, and hose stream test). This test conducted at Underwriters Laboratories, Inc. (UL) remains the test by which all other assemblies are compared. Our full-scale test meets all model building codes, ASTM Standard 1966, and UL Test Standard 2069. "The System"™ is Metal-Lite, Inc.'s primary product. Research, design, and development are important elements of Metal-Lite, Inc.'s success.
Metal-Lite is committed to developing new solutions for old and new problems that architects and contractors have in metal stud framing and is the most specified company on new metal framing projects.
Metal-Lite has made a commitment to architects, contractors, owners, and building officials to provide the most extensive technical support in the metal stud framing industry. Whenever Metal-Lite products are used in construction, Metal-Lite supports their use with field technical support to answer questions, assist with training for installations, and resolve technical issue as they arise during construction. It is this commitment that has fueled Metal-Lite's growth over the past 25 years as we continue to find new and innovative ways to provide our customers with quality products and the best possible service.